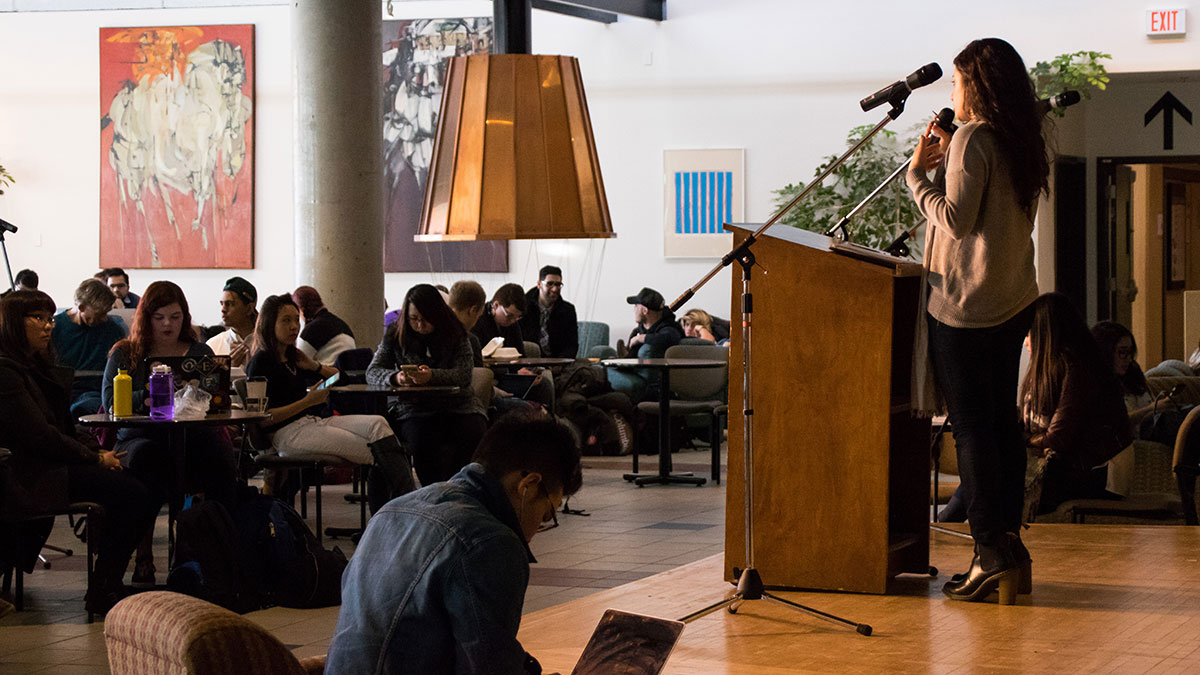 Welcome to the Students' Union elections, where everything's made up and the platform points don't matter.
It's no secret that the Students' Union suffers from a perception problem. But the problem isn't that students have a bad view of them; it's that they have no view of them. A record 22.5 per cent of students voted in the last election, about 7,000 out of 35,000 students. That's not a number to be proud about. Luckily, the SU is in the midst of its annual advertising blitz: elections.
This is my fourth time covering elections in some way or another, and it seems like we publish an opinion piece or editorial about buzzwords every year. Looking at this year's posters and platforms, it's obvious that the message isn't getting across. If the posters didn't have candidates' faces plastered over them, I would have no idea who is who based just on their points. This presents many problems. For one, it's obvious that there's little political diversity in the Students' Union. I might agree with most of their political leanings, but confronting opposing views are always a good way to keep our own in check, especially in professional politics.
But the second problem is worse. The conformity of the candidates points to elections being nothing more than popularity contests. If I can't tell the difference between the candidates of a race, I'll vote for the one that had the luck of talking to me in HUB — but only if I liked them. If I didn't, I'll vote for the other one. Unless you live in Ward 12, that's not the way voting usually works in Canada.
I see a way to fix this: use the election season to heavily promote the Students' Union. Don't just tell people what you're going to do, tell them what you're currently doing, what the Students' Union is currently doing and how you're going to improve on it. This is the best time to inform campus of what the point of the SU even is, and to convince them why they should care. I'm still not positive if I care, and I work for The Gateway — what does that say about the 77.5 per cent that didn't even vote?
We keep seeing examples in more important elections of politicians lowering themselves to the level of us commoners to wild success. Voters love it when politicians pretend not to be smug, arrogant scumbags. Take a look across the border. Bernie Sanders and Donald Trump have the most fervent supporters, and both are doing the same thing: telling it like it is to look less fake and more relatable to ordinary people. Voters, especially in an election where all the platforms are the same anyway, will turn to the candidate they can relate to the most.
The SU needs more relatability, and that starts before the next crew even steps into office. Candidates shouldn't just campaigning to get the seat, they should be campaigning to make sure students care when they're actually sitting in it. I'm sure a number of SU hopefuls want to enter politics after university, too, and there's no better way to start building up a voter base.
Last year's corruption and vote tampering during elections definitely didn't help the SU's image, or the image of politics in general. Future politicians are already stooping to shady tactics at a level where only 5,000 people care. I hope there's none of that this election because it really doesn't pay off. Someone will find out eventually. Instead, just get out there and tell people what actually sets you apart from other candidates.
Maybe one day the SU can represent the entire student body instead of just 22.5 per cent. When they do, we'll have a better experience not just for the students, but for the SU itself.