News
Should Native Studies courses be mandatory?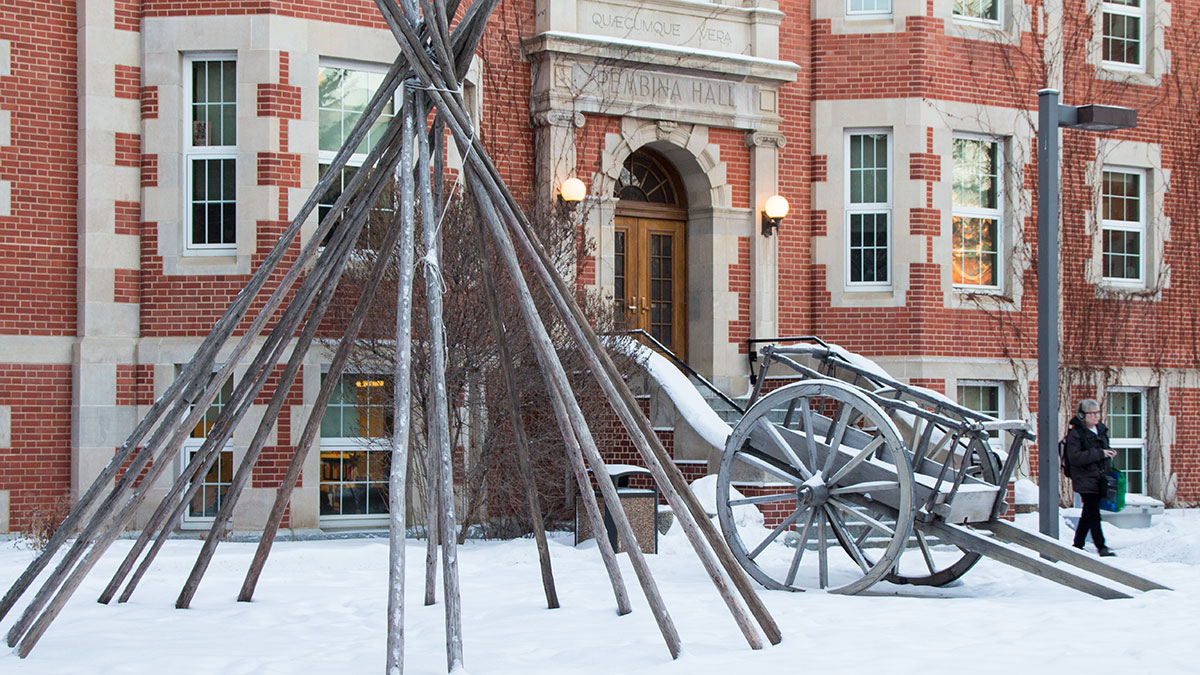 Mandatory native studies courses are the way of the future for some Canadian universities, but those involved in their development say they have to be more meaningful than mere dissemination of information.
In November 2015, Lakehead University and the University of Winnipeg both passed regulations which made three-credit native studies course a mandatory requirement for an undergraduate degree. According to Maclean's, the initiatives, which are set to launch in September 2016, aim to "combat racism and foster reconciliation in cities where indigenous residents continue to face … titanic barriers."
But Dwayne Donald, an associate professor in the Faculty of Education whose research focuses on the problems presented to educators when they are confronted with "curriculum initiatives that require … engagement with Aboriginal concerns," was hesitant to endorse similar initiatives at the U of A, at least for the time being.
"My concern with mandatory courses is it would be an impoverished and diminished version … of indigenous knowledge (that would) make it more palatable for the institution," he said.
"If the initiative, as it's been promoted, is mostly about information, that would be a mistake. What I'm committed to is not just talking about indigenous people, but teaching from those insights and worldviews."
Columnists from Maclean's and The Globe and Mail have speculated that the call for mandatory indigenous courses in post-secondary institutions originated from a growing public awareness of Aboriginal issues, especially following the recommendations from the Truth and Reconciliation Commission and the launch of a federal inquiry into missing and murdered Aboriginal women.
From Donald's perspective, a university-wide native studies requirement constructed solely on the desire to "do something indigenous" would mean missing an opportunity to "learn from each other and do better."
"It's something a lot of people are passionate about, but we need to slow down a little bit and think about what this would mean," he said.
"When somebody says, 'native studies courses for everybody!' … I'm just not sure whether this place is prepared to do that in the way I think it needs to be done."
Donald, who is a descendant of the Papaschase Cree, was part of a team that created the Faculty of Education's first required course focused on indigenous themes: Aboriginal Education and Contexts for Professional and Personal Engagements (EDU 211). For him, the course has not only challenged students to address "very personal, very subjective identity issues," but it has generated "a pretty significant culture change" within the faculty.
"The first year we taught it, there was a lot of resistance … and now the conversations are qualitatively different," he said. "It isn't so much that people have surrendered, but … there's less of a vulnerability."
EDU 211 has been a mandatory component of a Bachelor of Education for  the last three years, but the course still faces considerable opposition. A first-year education student who wished to remain anonymous said that, while he thought creating a class centered on the problems posed to "any and all groups (that) may be poverty-stricken" would be a "good idea," he considered EDU 211, which he took last semester, to be "biased" and "revisionist."
"There was no room for critical thought or multiple perspectives," he said. "Anything that didn't completely vilify the past (or) current government was never mentioned.
"A university class that only deals with a single perspective and doesn't allow for critical thought … is useless in my opinion."
Mark Oldershaw, a native studies student who is of Metis and Cree descent, said he found the opposition of some non-indigenous students to mandatory native studies classes "frightening."
"The critical thought (in native studies) is the recognition that you go to an institution that is based on a colonial structure," Oldershaw said. "This self-realization is a step towards (Indigenous) reconciliation and decolonization."
"I remember in my junior high classes, teachers used to skip over the Indigenous component in the curriculum and say, 'I don't really know this, I'll just skip to something else.' That really says something (about) the education system. There are flaws that need to be fixed."