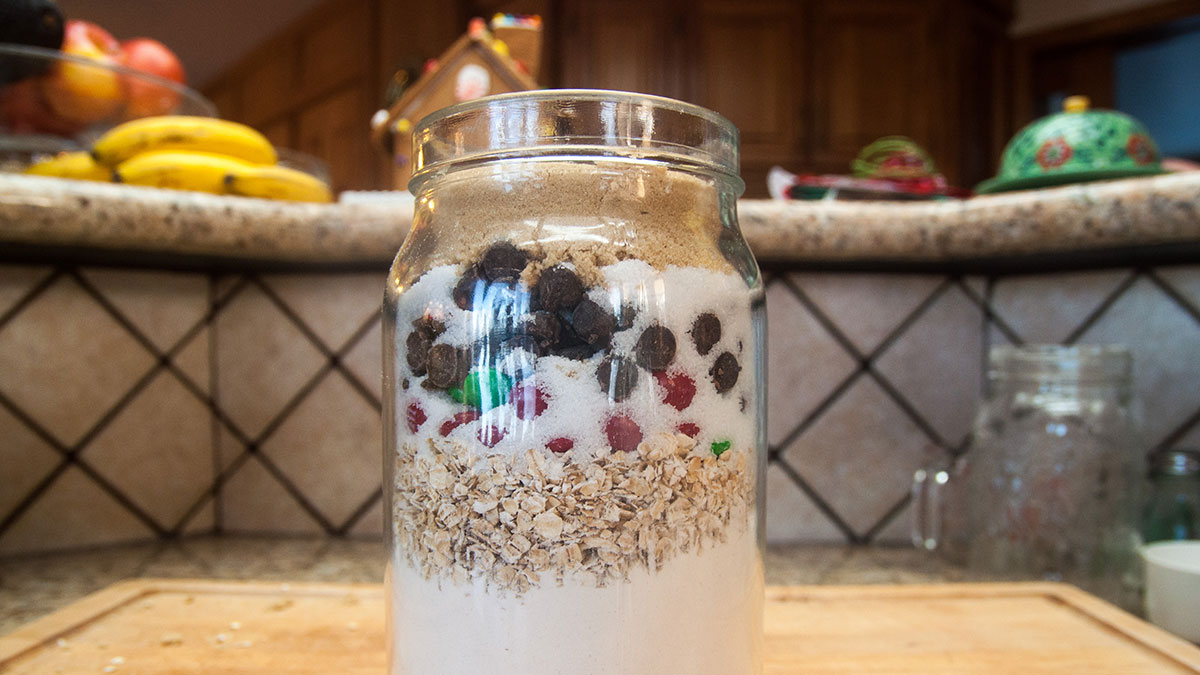 Struggling with gift ideas? Have no idea what to get your adorable old lady neighbour for Christmas? Fear not! If you're like me and gift-giving isn't your specialty, look no further for a solution. This DIY gift in a jar requires minimal effort and maximum thoughtfulness, and nothing screams "the holidays" more than homemade cookies. It's the perfect gift for people who love to bake or of course eat cookies over Christmas without having to worry about putting the effort in to prepare them. This gift gets most of the preparation process done for the person receiving it so you basically become the hero to every cookie craver out there.
1. Find a Killer Cookie Recipe
The one we provide is stellar, but feel free to use your creative liberty.
Recipe
1 1/3 cup all purpose flour, spooned into measuring cup & leveled
1 teaspoon baking powder
1 teaspoon baking soda
1/4 teaspoon salt
1 cup cooking oats
3/4 cup red and green m&ms (because Christmas you stupid idiot)
3/4 cup semi-sweet chocolate chips
1/2 cup brown sugar, packed
1/2 cup white sugar
2. Prepare Your Supplies
Since this is a gift in a jar, you will definitely need a jar. A Wide Mouth Mason Jar or a Regular Mason Jar will work to hold all the ingredients. To decorate the jar and make it hella festive, you will also need:
Tissue paper or a piece of Christmas-y fabric
Holiday-themed ribbon or string
Cardstock/thick paper or a label
A hole-puncher
A pen
All the ingredients for a cookie recipe (duh)
3. Get Layered
Collect all the ingredients for the mix. They look pretty sweet when they're layered in the jar so to level up the look, do just that. Mix the flour, baking powder, baking soda and salt to make the bottom layer. Pour it into the jar and follow with the layer of oats. Next, pour the Christmas M&M's layer, followed by the glory that is the chocolate chips layer. Lastly, top the jar off with the two layers of sugar. Boom, you now have the most epic stratification in a glass container.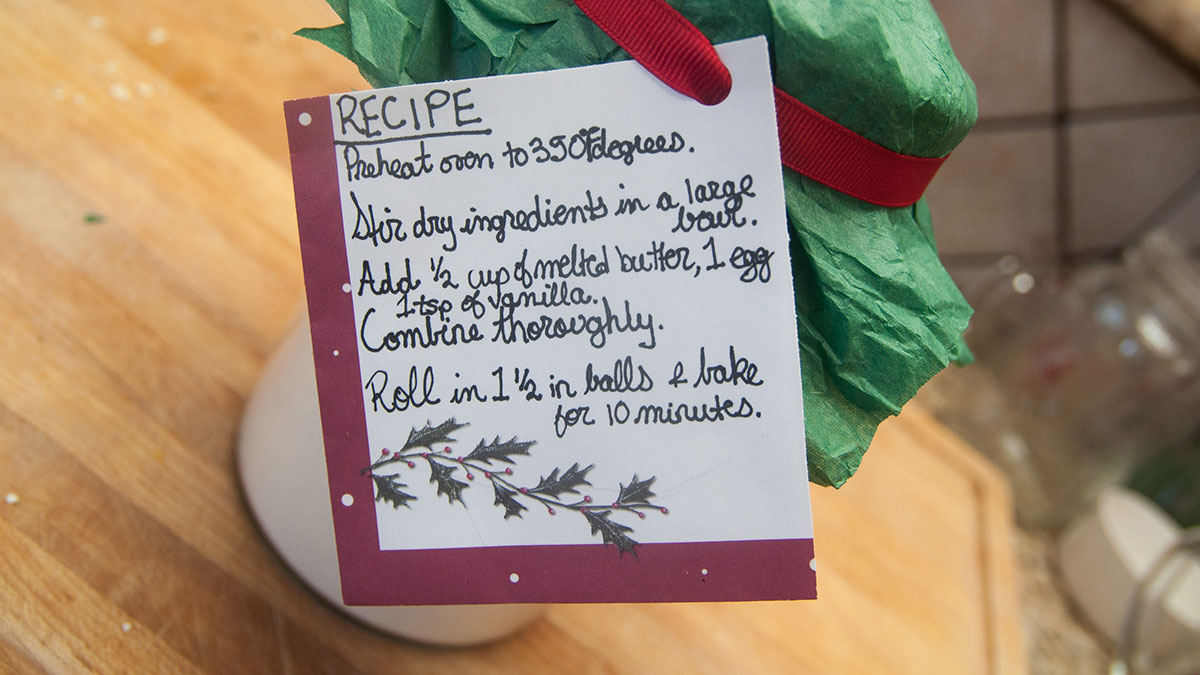 4. Put Your Decorating Skills to the Test
Now it's time to spiffy that jar up and put everyone in the holiday spirit. Put the lid on the jar and cover it with your choice of tissue paper or fabric (i.e. You have no choice, it must be Christmas or holiday themed). Write the wet ingredients to be added and simple recipe instructions on a small piece of paper for the label, in the fanciest cursive you can muster:
Preheat oven to 350 degrees Farenheit
Stir dry ingredients in a large  bowl
Add ½ cup of slightly melted butter, 1 egg, 1 tsp vanilla extract
Combine thoroughly
Roll in 1 ½ inch balls and bake for 10 minutes
After punching a hole through the paper, slide the string or ribbon through it. You can also write the recipe on a sticky label and slap it on the side of the jar. Tie the  piece of festive string or ribbon around the lid to keep the fabric/paper in place. You may decorate the jar further if your heart desires.
5. The Gift That Keeps on Giving
There you have it — the easiest way to give a Christmas gift that anyone can surely appreciate. The recipe provided makes a solid batch of about two dozen cookies so your gift receiver is good on cookie supply for a good chunk of time over the holidays. Plus, everyone loves a thoughtful, homemade gift from their loved one, and who doesn't love cookies?!