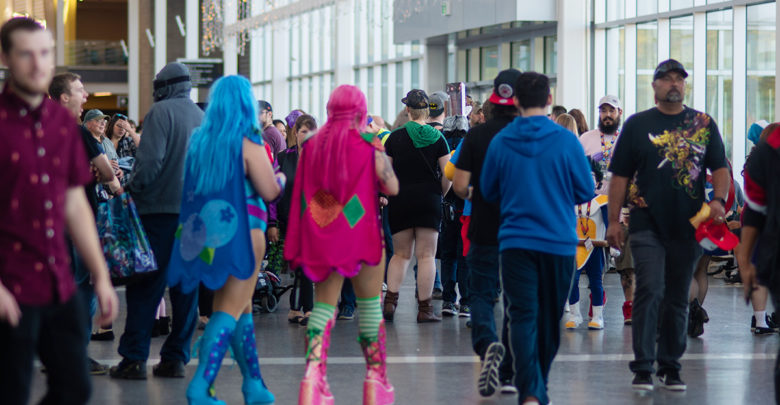 This year the Edmonton Expo boasted an impressive guest list with actors such as George Takei, Sean Astin, and Cary Elwes. However, I was more interested in one of the most important and predominant parts of conventions: the cosplayers.
The Edmonton Expo is a convention that happens once a year at Northlands Expo centre. Comic book nerds, film fanatics, and gamers alike gather together to buy merch, meet their favourite celebrities and cosplayers. There are other fun exhibits to go to such as the walk on costume contests, Q&A panels, workshops, and seminars.
The Expo hosted a variety of Canadian cosplayers for their 2019 event. The lineup included Evilyn13, Bec from BecofHearts, Kid Remington, and Dagen from Sword Mistress. It also included Edmonton based cosplayers such as Shelly from Picklesbird Cosplay, Nicastone, Shanna Lynne, and Micheal Conder from Foam Forge Cosplay. I got to talk to some of these cosplayers and asked them about the best and worst parts of cosplay and why it has become such an important hobby to them.
Each cosplayer has a sizable following and some have even made a career out of their hobby. However, cosplay is not as glamorous as it looks. It can be difficult, uncomfortable, and even frustrating.
For her last day at the Expo, Evilyn13 cosplayed as Linda Carter's Wonder Woman. The corset for her cosplay was based off of the original Playboy bunny suit from the 1960's.
"I can't take it off. I can't go to the bathroom all day basically, [because] it's all laced in. So, it would take me a good half an hour to an hour to just unlace it and get it off," she said. "I can't eat or drink all day. So you know, the possibility of fainting is there. And I'm in stiletto heels."
For Dagen, trying to recreate a wearable, functional, and moveable costume from a video game can be incredibly challenging. Her highly detailed cosplays which she is known for can prove to be difficult and time consuming as well.
Despite its difficulties, there are a lot of rewarding experiences that come with cosplaying. For example, positive in-character interactions can leave a long lasting impact on the cosplayer.
Bec, Shelly, Shanna Lynne, and Nicastone talked about their experiences with meeting kids in cosplay, and how great it feels to be dressed up as a child's favourite superhero.
"You can just see their eyes light up, and they're like, oh my god, oh my god, oh my god!" Nicastone said. "And then you get a picture with them, you give them high fives, and they leave just glowing."
Cosplaying can even help people face their social anxieties and make new friends. Shanna Lynne discussed how cosplay has helped her overcome her shyness. According to Lynne, stepping into crowds in cosplay becomes "easy peasy". Dagen talked about how going to cosplay contests can not only help her improve her own designs, but also help her find a community of like minded people.
Most importantly, cosplay can be a place of creative self expression.
"We all have something creative going on inside of us," Kid Remington said. "When you put on your mask, or your outfit, it's really a chance for you to turn up the volume on yourself. A lot of the time, we're afraid to show who we are in real life. Cosplay takes that fear away."