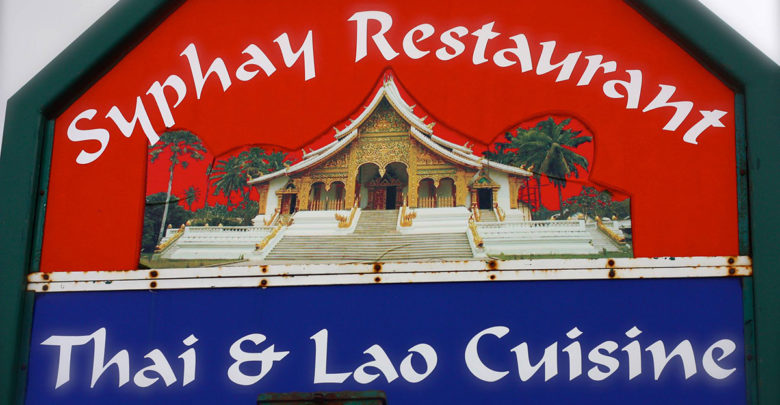 There is a preconceived notion about how spicy Thai cuisine is. Even a single mention of Thai food would conjure up the taste of dried chilli flakes on one's taste buds. I used to be one of those people who had a shallow and one-dimensional understanding of Thai food, until my friends and I visited Syphay Restaurant.
Amidst all the commercial strips and limited parking spaces, the family-owned restaurant stands out like a sore thumb on 94 Street and Jasper Avenue with its enormous restaurant sign. However, the restaurant depends not on a mere sign to attract customers, because its long-established reputable business is already its form of advertisement. And I can see why.
An ideal Thai meal should have a harmonious blend of all the taste senses — salty, sweet, spicy, and bitter — and should be as equally satisfying to the eyes, nose, and palate as well. Syphay takes pride in its truly authentic Thai food and, one thing for sure, they did not disappoint at all.
The Gang-Keauy (green curry) was spicy, but not too spicy. The bell peppers, broccoli, snap peas and the cooked beef were soused in green curry sauce and the infused coconut milk in the sauce left a delicate aftertaste. This curry dish had a little residual tanginess which blends well with the zesty flavour from the kaffir lime leaves. My friend, Michael, whose tolerance to spiciness seemed chucklesome, enjoyed this green soupy curry dish. Certainly, this dish is not one to miss.
The Pad Thai's stir-fried rice noodles were neither too oily nor too dry — it was unerring. It did have a nicely balanced sour and spicy taste from the chili tamarind sauce. With chopped chicken and seasoned shrimps, topped with peanuts and cilantro, this pad thai had a perfect blend of everything (only a hint of heat).
Khai Pad Mun Poo (crab fried rice) was definitely unlike any other fried rice I've ever tasted before. The dish tasted foreign yet its overall presentation seemed like it had distant relations to the Chinese fried rice (Yangzhou Fried rice). There were Chinese influences on this Thai dish — shredded chicken and fried dried shrimps while garnished with shredded omelet, sliced onion, carrots, and green peppers. The difference, however, was that the crab fried rice was obviously cooked with crab paste, which made it slightly salty, but in a good way. The chili flakes enhanced the taste of the dish by giving it a Thai twist. The verdict? If you're a rice lover like me, it will taste like heaven on earth!
No Thai meal will ever taste the same without spiciness. But let's not forget, it is so much more than just 'spicy'. A Thai meal is deeply characterized with layers upon layers of intricate flavours, even the mildest palates will find solace in the burst of flavours it offers. Syphay is no stranger to this, however, as they welcome anyone who is willing to give Thai cuisine a try with open arms. Which, to me, is as authentic as Southeast Asian cuisine can get.