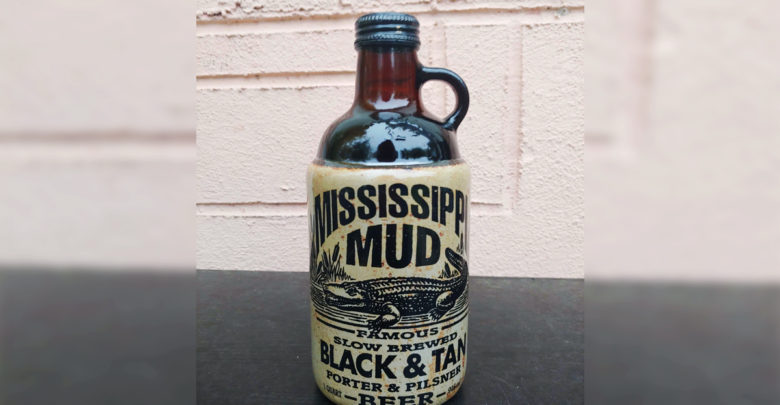 Price: $9.99 / 946 mL Jug (Sobey's Liquor Store, Whyte Ave)
I walked into the liquor store, saw this beer, and literally gasped out-loud. I had two immediate thoughts — it looked absolutely ridiculous, and for only $9.99 for almost a litre of beer, I really wanted to try it. I am a huge fan of porters in the wintertime — velvety with the heaviness of a full meal to keep your cheeks flush and warm. On the converse, I enjoy a crisp and hoppy pilsner when I'm sitting on a Whyte Avenue patio on a hot summer's day. Mississippi Mud is a classic take on the black-and-tan mixture of both beers — promising a "classic taste" of the blend of each of them.
Is this a perfect example of too much of a good thing?
The mini glass growler is a very appealing vessel for the beer and it unexpectedly had a convenient screw-top as opposed to a classic cap. Despite my best efforts to get a good pour, the head of the beer was rather short. Upon first glance, Mississippi Mud looks like it has the same dark umber and caramel hue as well as carbonation of Coca-Cola.
The flavour, however, is surprisingly delicate. It tastes like chocolate and roasted coffee with a touch of orange peel. It has the same mouth-filling round profile of hard liquor like scotch or rye. I had a glass before I realized that the beer benefits from having the same velvet smooth drinkability of a porter. For a $9.99 litre of a mix of two beers, Mississippi Mud is almost jarringly inoffensive.
Bring this bad boy to a party — you'll look ridiculous and also your beer will be easy-drinkin'.