Campus Life
News
Alberta NDP call on UCP government to reverse any potential funding cuts to post-secondary
NDP say tuition could double if MacKinnon Report recommendations implemented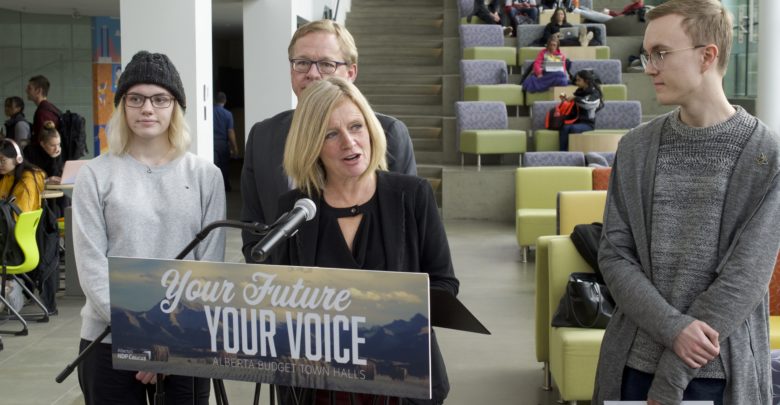 The Alberta New Democratic Party (NDP) is asking the United Conservative Party (UCP) government to reverse any plans of cutting post-secondary funding.
The NDP hosted an event in the Students' Union Building Atrium on October 2, a day after the U of A said for the first time publicly that institutional cuts and tuition increases will happen next year based off of provincial budget assumptions and the MacKinnon Report.
The leader of the official opposition Rachel Notley, shadow critic for the Ministry of Advanced Education David Eggen, and some U of A students were present at the event. 
Notley said that the time for conjecture of what the impact of the MacKinnon Report will have on post-secondary institutions is over.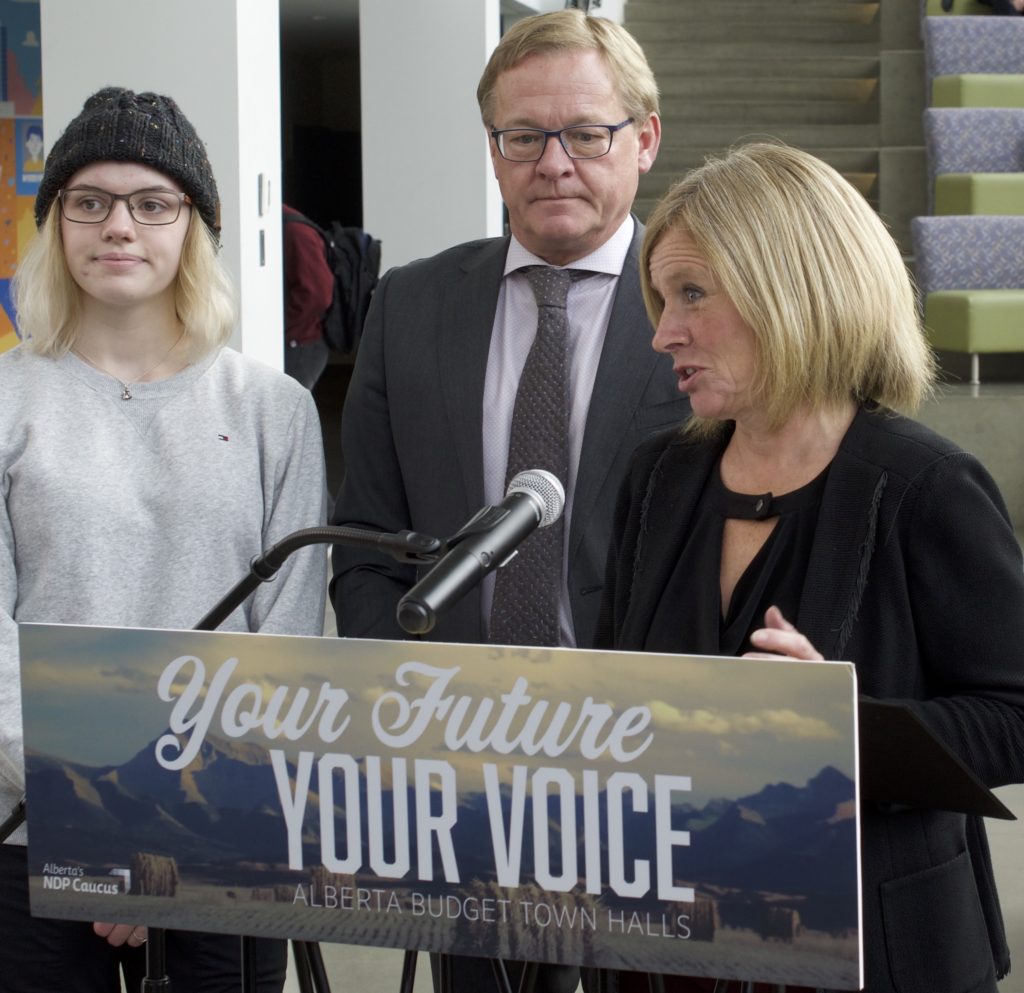 "Jason Kenney plans to make students pay more for education," she said. "The changes [as outlined in the MacKinnon Report] could double the cost of tuition for post-secondary students here in Alberta."
In the MacKinnon Report, the panel recommended that Alberta's post-secondary institutions — who spend more per student than any other university in Canada — find a revenue mix that is more comparable to other provinces like Ontario.
At the NDP event, Notley said students in Ontario pay 35 per cent of the cost of post-secondary education through tuition. In Alberta, she said that number is currently at 18 per cent. She cited those figures as the basis for anticipating a jump in tuition prices.
Notley said any increase to tuition above inflation is "not fair" to students.
"Are we asking our students… to borrow that much more over the course of their degree?" Notley said.
Notley said the budget and MacKinnon Report are having adverse consequences on Alberta as a whole, including post-secondary institutions.
"The secrecy around this budget is creating a massive uncertainty and anxiety," she said. "Albertans do not know what to expect or where the cuts will come; but we do know they are coming."
Notley "not surprised" by U of A's State of the University Address
Notley said she is not surprised by the U of A's State of the University Address and that cuts will have to be made.
She said the degree and scope of cuts that the MacKinnon Report recommended are an indicator of what is to come.
"I think we are already seeing changes being made at the U of A, just as we are seeing changes being made across the province" Notley said.
However, Notley said that she was concerned the president of the U of A mentioned that market modifiers could be increased.
Market modifiers help professional programs like engineering or law cover costs of programming. She said they just become another barrier for students hoping to attend university.
"These programs that give people tremendously elevated opportunities for the future, will only be limited to a very elite and wealthy subsection or slice of Alberta's population," Notley said. "That's not what our post-secondary institution should be."
"All Albertans should be able to consider themselves as having equal access to the opportunities that post-secondary institutions provide," she said.
UCP say claims of doubling tuition are "outrageous and false"
In an emailed statement from the Ministry of Advanced Education, the UCP said the NDP's claims of doubling tuition is just "fear-mongering."
"The NDP's claims of doubling tuition is just more desperate fearmongering from the opposition," the statement said.
The statement said the student share of tuition costs are only part of total tuition costs, where students pay about 20 per cent while the Alberta taxpayer pays approximately 50 per cent.
Additionally, the statement said tuition remains frozen at 2014-15 levels. However, through consultation, the UCP have found extending the freeze would adversely affect institutions.
"Our stakeholders have told us that extending the freeze will negatively impact the quality of education and services provided to students," the statement said.
The UCP said that "difficult decisions" will need to be made with the upcoming provincial budget — to be released on October 24.
"Any decisions will take into account student affordability and accessibility, but claims of doubling tuition are outrageous and false," the statement said.
Non-academic staff waiting for provincial budget
According to Notley, layoffs at post-secondary institutions are already occurring, including some at the U of A from non-academic staff.
President of the U of A Non-Academic Staff Association (NASA) Elizabeth Johannson said she is unaware of any layoffs stemming from anything other than regular operations.
"We aren't aware of anything unusual happening right now," she said.
She said that NASA is waiting with "anticipation" for what the provincial budget will hold in store for post-secondary institutions.
"Like everybody else, we are waiting for the provincial budget to come down," Johannson said. "I don't know what may happen. But no reactions to uncertainty of the budget have occurred yet that I am aware of."