My Week with Marilyn
Do you have a seven-year Marilyn Monroe itch that you need to scratch? If so, you're in luck. Life in the Beauty Lane brings you face to face with products, pictures and makeup looks from MAC Cosmetics' Marilyn Monroe collection. Hollywood's favourite blonde is coming to a MAC counter near you on Oct. 4, and the collection is already available online.
This past Tuesday, I was lucky enough to attend the exclusive MAC & Marilyn Monroe launch party at MAC West Edmonton Mall. It was red lips and faux lashes galore, complete with flutes of champagne and a Marilyn look-a-like model.
Makeup artists were on-hand to help aspiring starlets test out the new products and looks. To join in on the fun, I had my lips lacquered to ruby perfection and my cheeks sculpted to mimic Monroe's legendary glow.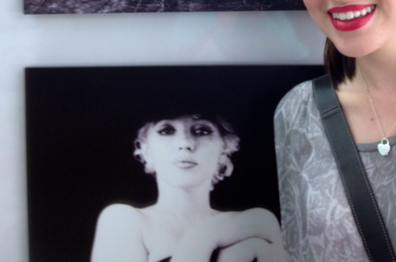 I fell in love with the red lipstick I wore that night (called Charmed, I'm Sure), which I ended up taking home, as well as the two powder blushes from the line (The Perfect Cheek & Legendary).
The luxe, limited edition packaging for this collection features pictures from a 1956 Milton Greene photo-shoot entitled "The Black Sitting," which took place in New York City. I'll be keeping these boxes in my beauty vault long after the items themselves have been used up.
In upcoming posts, I'll show you how to achieve a luscious red pout, Marilyn's signature pin-up girl eyes, and flawless porcelain luster. Happy photo perusing, and we'll see you on the flipside with some "how-to's" and some "what-not-to's" for achieving your perfect Hollywood pin-up look.
Comments
On this special short edition of The Gateway Presents, we celebrate the Gateway's 103rd birthday by telling some birthday stories and talking about The Gateway's history.
12/04/2013
What renowned paleontologist Phillip Currie initially thought was a turtle shell poking out of the ground turned out to be an almost fully intact baby dinosaur — and one of the most significant finds of his career.
12/02/2013
Ron Woodroof's life is one of constant debauchery, highlighted by drug addiction, alcoholism and hypersexuality. When the homophobic electrician and amateur rodeo cowboy is diagnosed with HIV AIDS, he reacts with disbelief and anger, beginning Dallas Buyers Club, a powerful story of one man's resilience amidst the 1980s AIDS epidemic from Canadian director Jean-Marc Vallée.
12/01/2013
I'm about 99 per cent sure Lorde is the absolute coolest 16-year-old who's ever lived. Her debut album Pure Heroine's two biggest singles, "Royals" and "Tennis Court," both serve up some seriously iconic makeup looks in their music videos. Here's a quick step-by-step to recreate her look in "Tennis Court."